A quick review of the trends our directors got the chance to see during their business trip in Germany. Days of visits and discoveries, and lots of pictures!
First, the visit of the international trade fair interzum 2019 in Cologne. Our suppliers Hettich and Egger had amazing booths not to be missed! See videos from interzum's Facebook page here displaying the latest trends, technologies, materials and designs that were on exhibition at the fair.
After a couple days of discoveries, the group moved to Sürenheide, Verl, Germany to visit Nobilia's huge showroom. They use a lot of Egger products in their kitchen designs. The combination of wood and uni colours is still very present in 2019 along the open shelving storage. Whether you like handles or not, you will find some inspiration in this video of the tour of Nobilia's beautiful showroom and the visit of Egger's plant.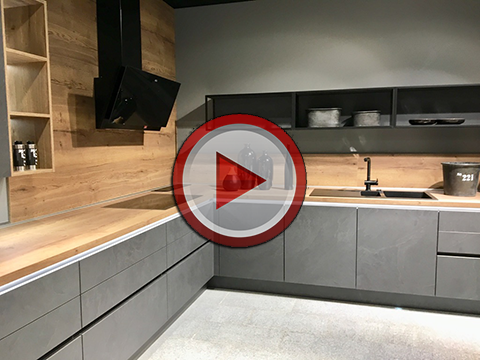 The world's leading trade fair.
interzum 2019.
Interzum is the world's leading trade fair for furniture production and interior design. This is where the most important business is conducted and momentum for the global furniture supply industry is created. Decision makers, opinion leaders and disseminators from all over the world keep up with the innovations in the industry, seek and establish new contacts – those who want to do truly good business in 2019 should not miss this opportunity.
Interzum provides key momentum for the design of tomorrow's living environments. It is the industry's central communication platform and the ideal setting for companies, who want to present their ideas to the whole sector in one go.

The most innovative products, new technological developments and innovations in materials are presented at the largest industry event worldwide. The whole sector attends the trade fair to experience product premieres first-hand and to get a glimpse into the future: Topics such as the conservation of resources, sustainability, upcycling and the increased interest in digitalised living environments are all covered.
Interzum Website: https://www.interzum.com/

Kitchen culture à la nobilia.
We build intelligently engineered kitchens with superb design. Nobilia kitchens capture many peoples' attitude towards life with something for every taste, and they also impress with their attractive value for money.
There is more than 70 years of experience and the know-how and lifeblood of more than 3,550 employees in every one of our kitchens. All this and much more have made us the market leader and Europe's largest kitchen manufacturer.
Our standard.
Nobilia builds intelligently engineered kitchens with excellent design and for every taste. For many people, Nobilia kitchens reflect their attitude towards life. Our focus is always on: Quality. In the planning department. In the production department. In the processing and customer service departments.

At nobilia our goal is to provide every customer with exactly the kitchen they want. As unique as the people living in them.
Nobilia Website: https://www.nobilia.de/en/

The EGGER Group, with its head office in St. Johann in Tirol, is one of the leading international wood-based materials manufacturers. Founded in 1961, the family-based company now has 18 production plants with approx. 9,200 worldwide employees. Global customers include those in the furniture industry, wood distribution, building markets and the DIY business.
Egger Website: https://www.egger.com/shop/en_CA/