Trends and Post-Pandemic Design Evolution by Formica
New World, New Expectations
The world has changed since the beginning of the covid-19 pandemic, and many users, consumers and business travelers expect changes when it comes to the use of space, cleanliness and overall design of shared spaces they attend.
Hospitality scene, restaurants and other venues 1
Formica consulted with Renee Hytry Derrington, Managing Principal Design, Formica Corporation to get her take on the evolution of design in hotels, restaurants and other venues. She strongly advises designers to keep these three trends in mind, which she believes stems from the post-pandemic expectations of consumers in these environments.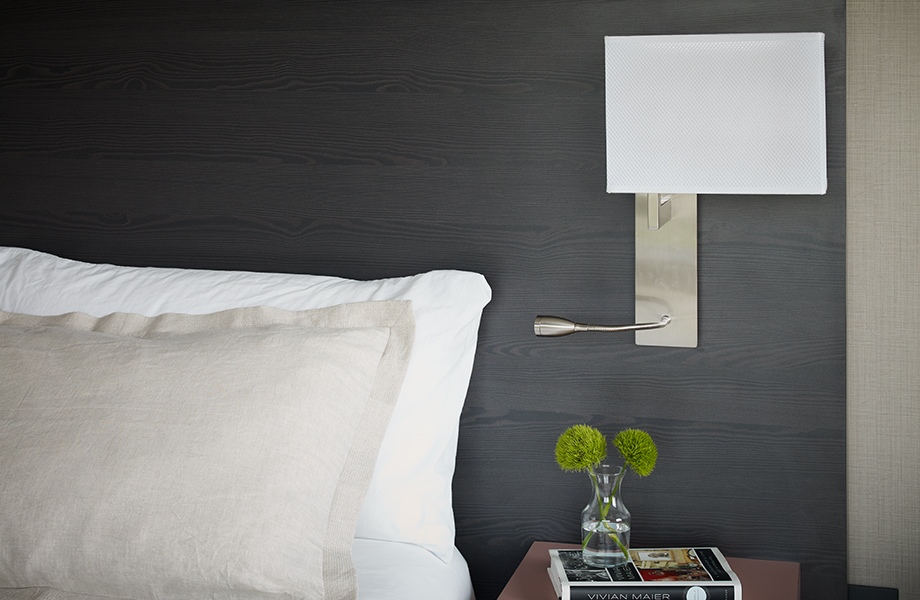 Materials Mindfulness + Sensational Surfaces + Palpable Cleanliness
Ease of maintenance has always come first in areas where the cleaning rate is very high. That's more than critical now with frequent cleaning of shared surfaces. Designers have to think of a unique design while incorporating materials that are not only easy to clean, but also durable and simple to maintain.
Solid surfacing is a good example of a material that can be used in areas frequently in contact with water such as bathroom countertops. The non-porous surface with a seamless look offers a hygienic alternative to delicate surfaces like stone that require the application of a sealant. In addition, it is possible to integrate a sink, which reduces the risk of bacteria accumulating in the joints. The 38 options in the Formica Everform™ Solid Surface Collection can thus complement customers' design without neglecting the hygienic aspect.
Light Neutral Woodgrains to Visibly Represent New and Clean
Inspired by the Scandinavian style that has highlighted light woods for years, many establishments use neutral wood grains to add a touch of freshness to their surroundings. When combined with solid colors, they give a modern look to the design.
Using a laminate over natural wood offers many advantages since this product is easy to clean and sanitize while providing a realistic design at a fraction of the cost. Another advantage of Formica Wood Grain Laminate is that it has remarkable long term color stability which makes future additions easier. Choose from dozens of lovely patterns in the Formica® Woodgrain Laminate Collection for your next project.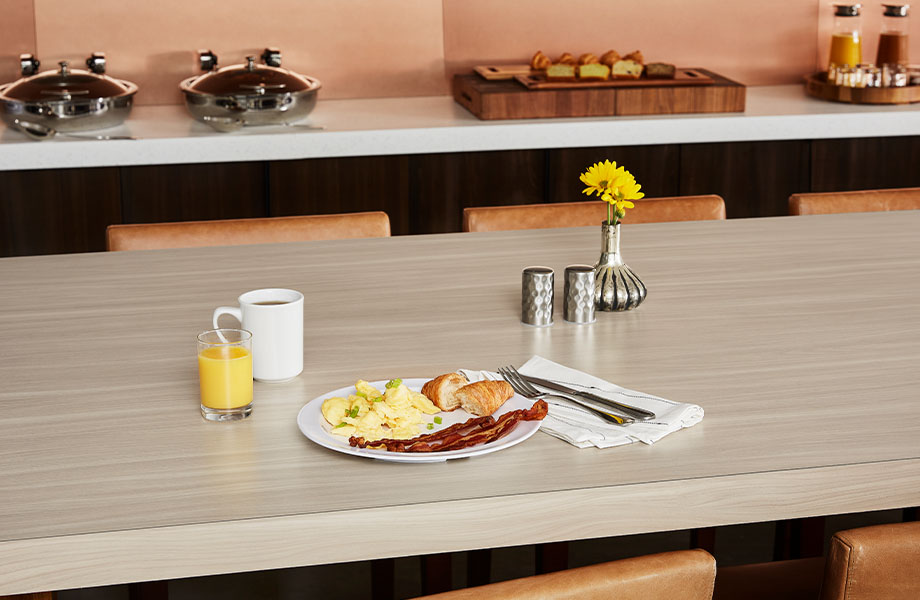 Sustainability and Eco-Friendly Practices and Surfaces
More and more, designers and architects are opting for eco-responsible materials when it comes to the design of a project. The environmental impact of design choices continues to be a key driver for many establishments. This allows them to be in line with their own sustainable development practices and they thus gain by promoting their eco-responsible choices to their savvy customers.
Paper-based high pressure laminate has proven to be an outstanding option for achieving sustainable design. The unique eco-friendly designs of the Paper Terrazzo series, Recycled Kraft Series and Reclaimed Denim Fiber are one of a kind as they all incorporate sustainable or recycled components. These FSC®-certified patterns are easy to clean and make a stunning statement.
Learn more about Formica Corporation's commitment to transparency in its sustainability practices, including their in-depth 2021 Sustainability Position Paper.
Education Design 2
The era is full of change for educators and designers alike
The pandemic will have had an impact not only on students, but also on teachers who must rethink the way they teach. Learning spaces must evolve towards a more student-centered layout of the space and access to technology.
There are several major changes on the horizon in the design of learning spaces according to Dr. Christina Counts, vice-president of Education at MiEN Company, a company specializing in furniture focused on the education space. Inspired by new learning theories, flexible and modular designs begun to emerge before the pandemic, and it only confirmed that momentum.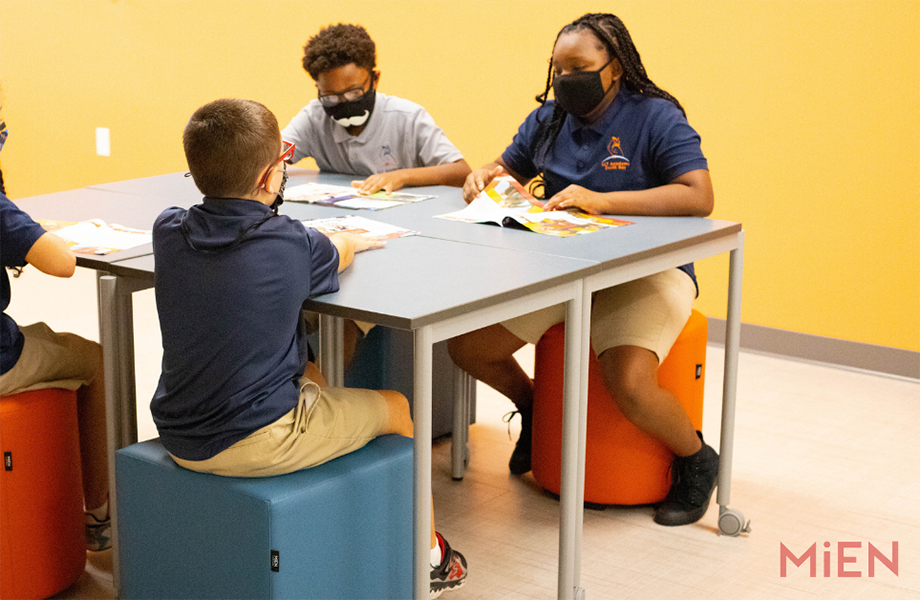 Here are four trends to keep in mind that will influence the design of learning spaces of the future:
Creating Healthier, Safer Environments
School administrators want to provide efficient spaces that can be reconfigured to promote health distancing, facilitate cleaning, but also student learning.
Since furniture and other pieces of furniture must be moved and cleaned frequently in school settings, impact resistance must be taken into account. "Durability is a huge factor, especially for furniture. HPL [high pressure laminate] is a standard because you know it will last 20 – 30 years," she said.
Explore the hundreds of patterns and colors available in the Formica® Laminate Collection.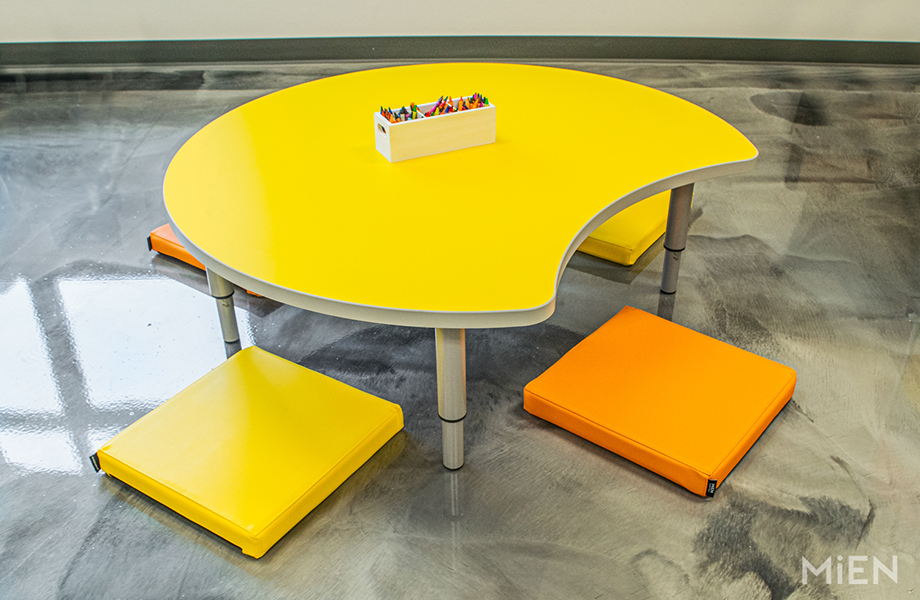 Integrating Technology as an Essential Element
Teaching patterns change and we have to adapt in order to keep up with the trend. Technology in education is ubiquitous, but it needs to be thought through and planned, especially under the circumstances of a distance education model, or in a hybrid format, as we have experienced.
The concept of playful learning is revolutionizing education. Ultimately, she stressed that "access to technology, whether for remote learning or face-to-face learning, is about establishing the human connection through design choices." This is an important concept to consider when planning layouts that maximize interaction while incorporating technology.
Creating More Inclusive, Equitable Spaces
Today's designs can no longer follow the pattern of having 30 identical desks with 30 of the same chairs. These need to adapt to the different learning needs of the wide variety of students. Several innovative options are now available: standing-height desks, stools and mobile furniture allowing students to choose the way that best suits their learning style.
Dr. Counts said that the 4C's: creativity, collaboration, critical thinking and communication, need to be featured in new spaces designs. She considers whiteboard surfaces essential. "They're a great way for students to showcase their thinking," she said, adding these components can take the form of tabletops, the backs of storage devices or mobile boards in addition to those hanging on the wall.
Explore whiteboards and other Formica® Writable Surfaces.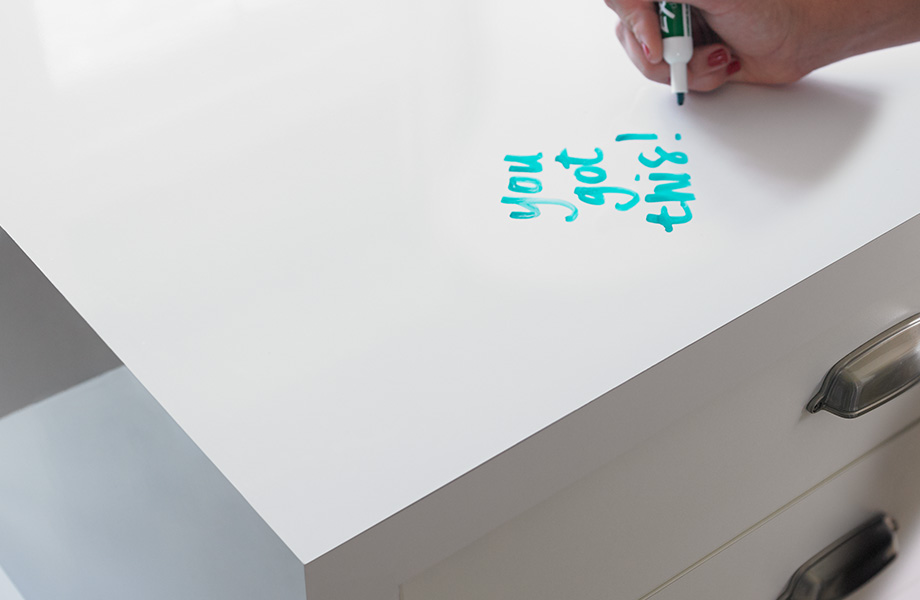 Showing School Spirit with Colors and Branding
"Color is something we're always bringing into design to increase student engagement," Dr. Counts said. MiEN often uses bright colors and is inspired by the Pantone color of the year.
Schools seek to highlight the values and colors of the school through design. This helps to create a sense of pride. Learn how easy it is to work school colors and imagery into surfacing on walls, tabletops and more with Formica Envision™ Custom Laminate.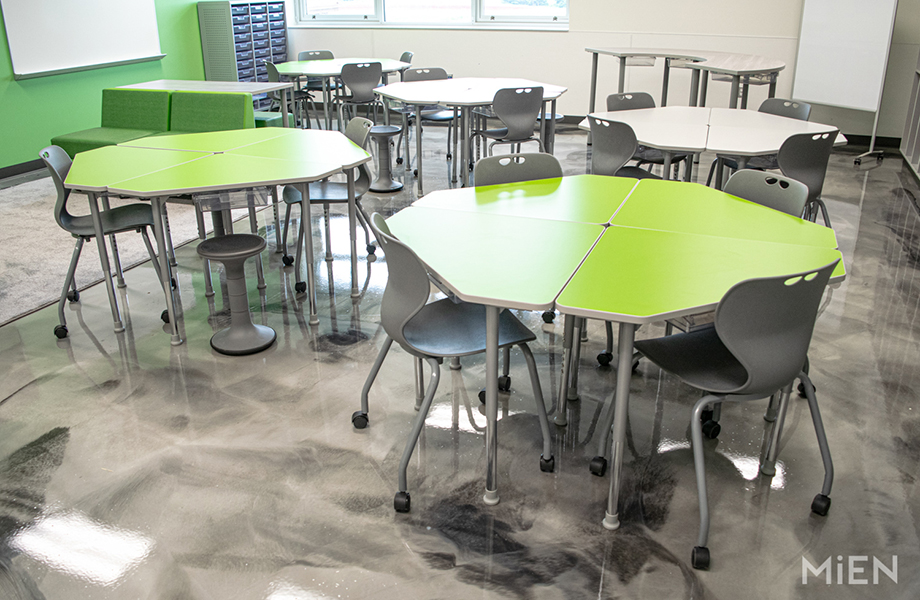 ---
1 Source: Article published on Formica.com website. URL Address: https://www.formica.com/en-ca/articles/inspiration/3-trends-impacting-post-pandemic-hospitality-design
2 Source: Article published on Formica.com website. URL Address: https://www.formica.com/en-ca/articles/inspiration/4-trends-shaping-education-design