Formica Canada Blurs Line Between Nature and Technology with the new SurfaceSet® 2020 Collection.
30 new visuals for designers to personalize commercial interiors.
Saint-Jean-sur-Richelieu, Quebec, Canada, October 1st, 2019 — The lines between humanity and technology are blurring, yet nature remains a grounding factor. It's this "blurred lines" theme that serves as the basis for SurfaceSet® 2020, a collection of new woodgrains, solids and patterned Formica® Laminate designs to help interior designers and architects create beautiful and functional commercial spaces.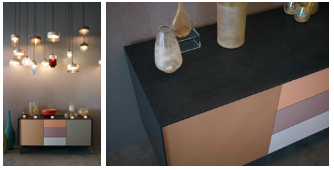 "Our team of experts spoke to hundreds of architects and designers to identify trend drivers that blurred the overlap between natural, human and technological dimensions," said Renee Hytry Derrington, global design lead for Formica Group. "We created the SurfaceSet® 2020 collection to help professionals embrace these new trends with design-forward solutions that are functional and carry the warmth of the natural world, from a boutique hotel in Montreal to a senior living facility in Calgary."
The 2020 SurfaceSet® Collection is grouped into three key palettes – No Boundaries, Engineered Design and Fluidity – with on-trend, usable design solutions created within each one.
Discover the three palettes designs.
About Formica Canada Inc.
Formica Canada Inc., part of the Formica Group of companies, is a leader in the design, manufacture and distribution of innovative surfacing products for commercial and residential applications. For more information about Formica Canada Inc., its products, special programs and promotions, visit www.formica.com or call 1-800-FORMICA™.